Andrew Tate has compared himself to late civil rights icons Martin Luther King, Jr. and Nelson Mandela as he further complained about his imprisonment on human trafficking charges in a new email sent to his website subscribers.
The American-British influencer was arrested in Romania on December 29, along with his brother, Tristan, and two Romanian nationals, and charged with human trafficking. Initially held for 24 hours, Tate's detainment was later extended to 30 days, before it was reported that the brothers will remain in detention until February 27.
Romanian prosecutors allege that Tate and his brother coerced six women into producing pornography, with the alleged victims facing "acts of physical violence and mental coercion." It was also widely reported that Tate had been accused of rape.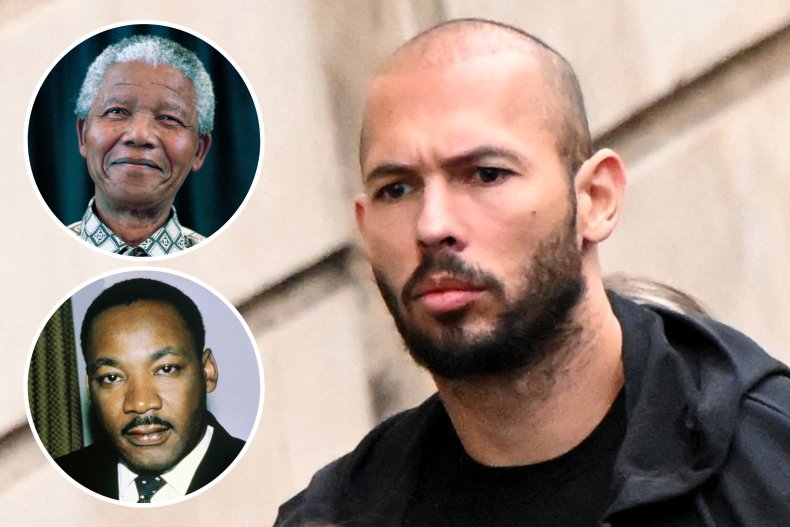 As he continues to communicate with fans from behind bars, Tate, 36, on Tuesday sent out an email titled "Demons Walk Amongst You," in which he suggested that he has been imprisoned due to his "empowering influence."
"Scammers and demons walk amongst you," he started the message, which was viewed by Newsweek. "The Matrix is designed to promote an ideology that makes you weak, poor, and alone. Negative influences are promoted and paraded to weaken you. While empowering influences get locked in a cell.
"Martin Luther King Jr. Nelson Mandela. Once you reach a point of empowering influence, you're marked by The Matrix as a criminal. The Real World has been too successful for my own good. Once you have empowered too many people, they lock you in a cell."
"My unjust imprisonment is testimony to my good work in the world," the former professional kickboxer went on. "You cannot control a man who is his own employer. When you are freed financially, you are freed ideologically. The Real World has successfully financially freed too many people, it has woken too many people up to the truth about money."
He then took aim at fellow influencer Logan Paul, who has had a turbulent few weeks after he was accused of "scamming" his followers with a cryptocurrency game he produced in 2021 called CryptoZoo.
Paul called CryptoZoo a "really fun game that makes you money," but YouTube investigator Stephen "Coffeezilla" Findeisen released a series in December in which he labeled the project Paul's "biggest scam."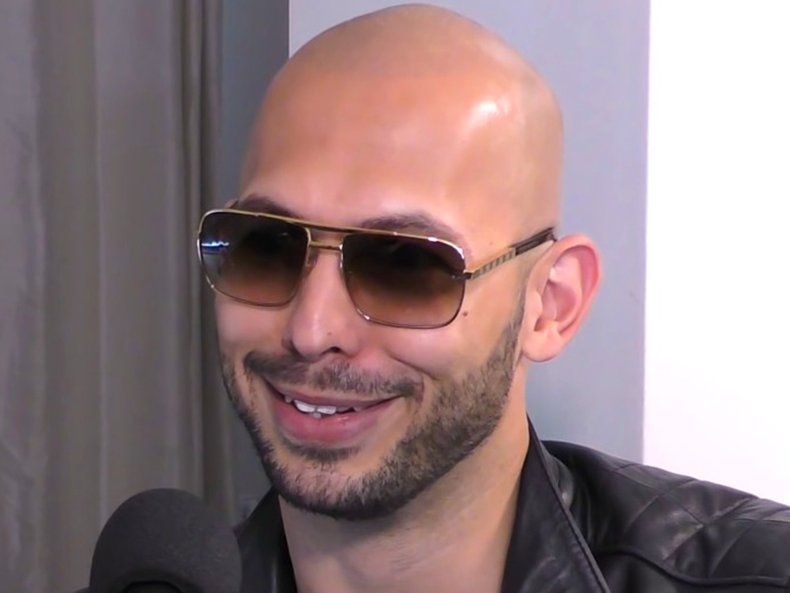 "Scammers like Logan Paul WEAKEN men, this is why he is so widely promoted," Tate wrote in his lengthy missive. "Scammers and Demons are let loose and paraded. Truly empowering people, they lock into a cell. Remember this as they try to extend my detention on zero evidence.
"Unfortunately for our enemies, The Real World was designed to operate without me. My success at freeing people from financial slavery is unaffected by my detention. We continue to educate people on the realities of business. Affordable world-class education at the click of a button."
"Work hard, take care of your family, and become rich and financially free. It is the only way to resist the slave mind," he added in his email, before sharing a link for his followers to become "financially free" by signing up to a site called The Real World.
The website describes itself as a "completely Matrix independent platform where we teach you how to make money in the digital age," with subscribers being charged $49.99 a month for access.
In a recent email sent out to fans, Tate complained of the conditions he has been kept in during his detainment, writing: "They are trying to break me. Thrown inside a cell without light. Cockroaches, lice and bed bugs are my only friends at night."
Tate's Twitter account has remained active in the weeks since his detention. In a post that was shared on the platform earlier this month, Tate denied the allegations leveled against him, insisting there was "zero proof."
"Anyone who believes I am a human trafficker may as well go and take their 10th vaccine," he wrote. "There are 0 victims, 0 proof of any crime in our case file. They have arrested me to 'look' for evidence, Which they will not find because it doesn't exist."
After his detainment, Tate was taken to a hospital earlier in January following a "routine medical check," according to Romanian news channel Antena 3 CNN.
That same day, cryptically addressed what had happened on Twitter, writing: "The Matrix has attacked me. But they misunderstand, you cannot kill an idea. Hard to Kill."
Over the years, Tate has been criticized for a number of controversial comments about women, including his 2017 claim that they "must bear some responsibility" if they get raped, during the #MeToo scandal.
According to The Guardian newspaper, in one video Tate discussed how he would react to a woman accusing him of cheating, saying: "Bang out the machete, boom in her face and grip her by the neck. Shut up b****."
Tate, who has repeatedly denied any involvement in human trafficking, has also received a wave of support over the most recent allegations, with conservative commentator Candace Owens stating she doesn't believe he's a "rapist."
Specialists from the Rape, Abuse, and Incest National Network (RAINN) sexual assault hotline are available 24/7 via phone (1 (800) 656-4673) and online chat. Additional support from the group is also accessible via the mobile app.
Do you have a tip on an entertainment story that Newsweek should be covering? Let us know via entertainment@newsweek.com.