The United States could be reversing its opposition to providing Ukraine with M1 Abrams tanks, according to a Tuesday report from Reuters.
The news agency added that two U.S. officials said an announcement regarding Abrams tanks could come "as soon as this week."
Ukrainian President Volodymyr Zelensky and other officials from his country have been vocal in recent weeks about their desire to obtain battle tanks in order to defend themselves from Russian forces. On Friday, Zelensky appeared via video during a meeting of Ukraine allies at Ramstein air base in Germany to make an appeal for weapons, and he placed a special emphasis on a call for tanks.
The U.S. officials who spoke to Reuters on the condition of anonymity said they did know if a final decision had been made regarding the sending of Abrams tanks to Ukraine. However, if President Joe Biden approved the deal, the tanks could boost Zelensky's forces as Ukraine prepares for what it believes is a major offensive coming from Russia in the upcoming weeks.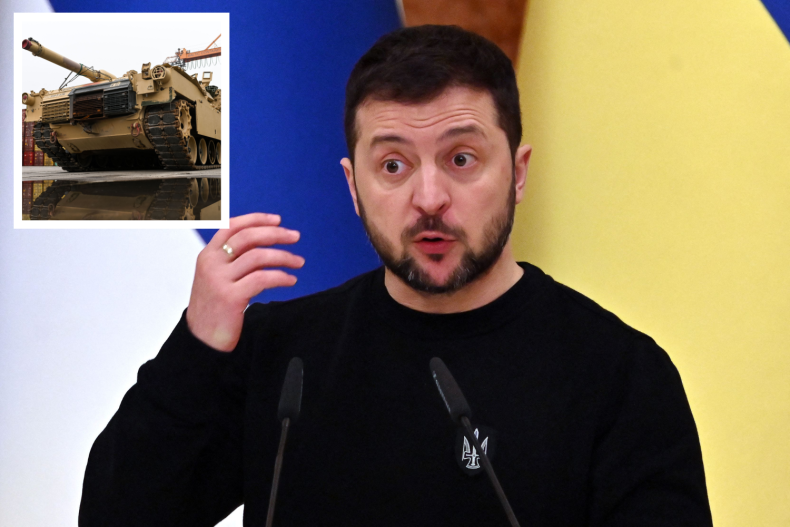 The Wall Street Journal also reported on Tuesday that anonymous U.S. officials said that the Biden administration was "leaning toward sending a significant number" of Abrams tanks to Ukraine.
The Journal wrote that the U.S. sending Abrams tanks to Ukraine would come as part of a deal with Germany that would see Berlin provide some of its own Leopard 2 tanks as well as approve Leopards being delivered by Poland and other nations.
Newsweek reached out to the White House for comment.
This is a breaking story and will be updated as more information comes available.