It will likely take "several hundred million" dollars to cover the costs of necessary repairs for California communities following the last three weeks of extreme weather events, according to FEMA Administrator Deanne Criswell.
Criswell traveled to California on Thursday with President Joe Biden, who visited Santa Clara and Santa Cruz counties to survey damaged areas and speak with local residents impacted by the winter storms.
While talking with reporters onboard Air Force One during the flight from Washington, D.C., to California, Criswell was asked what the agency believes the recovery efforts will cost.
FEMA is beginning to review initial estimates, Criswell said, but the duration of the extreme weather and the continuation of road closures in some parts of the state due to flooding and debris have made it difficult to determine the true extent of the damage.
"Several hundred million" was the initial estimate Criswell gave. "I expect that number to go up," she added.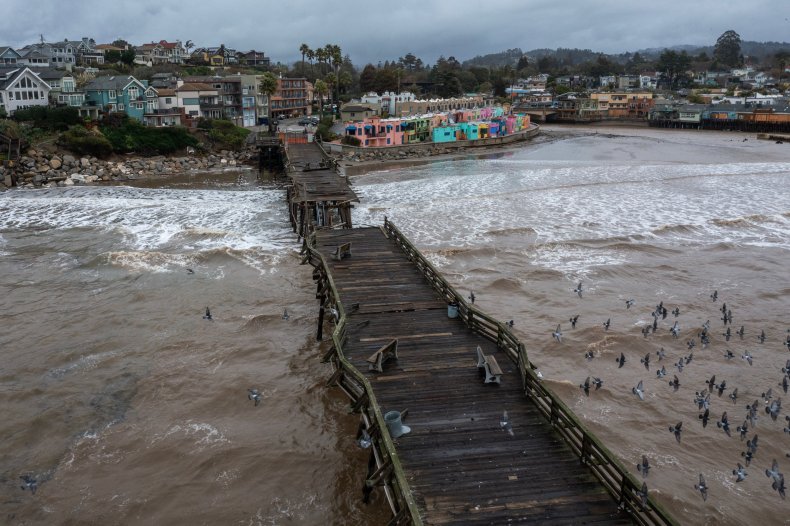 Local officials in California have begun releasing estimates for what recovery efforts will cost in their areas.
In Sacramento, county officials told The Sacramento Bee they believe the storms caused more than $123 million in damages.
In San Francisco, the city's Office of Emergency Services released an initial damage cost estimate of $46 million, according to Oakland-based television station KTVU.
And in Monterey County, agriculture experts with the Monterey County Farm Bureau told local reporters the storms likely caused at least $40 million in damages to land used for farming.
At least 21 deaths have been linked to the storms thus far, California Governor Gavin Newsom said Thursday. A 5-year-old boy who was swept away in floodwater last week in San Luis Obispo County has also not been found, Newsom said.
As Biden's Thursday visit approached its conclusion, the president appeared with Newsom at Seacliff State Park in Aptos to deliver public remarks about his administration's efforts to support Californians in the wake of the storms.
Before Biden spoke, Newsom acknowledged the efforts that search, rescue and recovery teams have made thus far in his state. More than 1,400 "heroic rescues" took place over the course of the storms, Newsom said, and thousands of people were instructed to evacuate their homes due to safety concerns.
Ninety-three local, state, regional and federal agencies have contributed to California's storm response, the governor said.
Earlier this week, Biden amended an earlier disaster order he approved for California in response to the weather. The amended order makes more federal funding available to the state.
When it came time for Biden to address the public on Thursday afternoon, he said he and Vice President Kamala Harris have been in "close touch" with Newsom since the storms began.
"We told the governor that we'd do everything we can, whatever he needs," Biden said. The president later said the federal government "is not leaving its responsibility until it's all fixed."
Newsweek reached out to FEMA for further comment.