A mom has gone viral on TikTok for her hilarious reaction after accidentally shaving a line through her husband's hair.
Devon Tilson shared the video on her TikTok account, @devontilsonx, on January 22 showing her mom laughing uncontrollably at the mistake. The video quickly amassed 3.3 million views in just two days and has more than 135,000 likes at the time of writing.
Tilson told Newsweek: "My mum was cutting my dad's hair, ready to go out for a meal that we had planned. My mum was uncontrollably laughing but it was more the shock of what she'd done."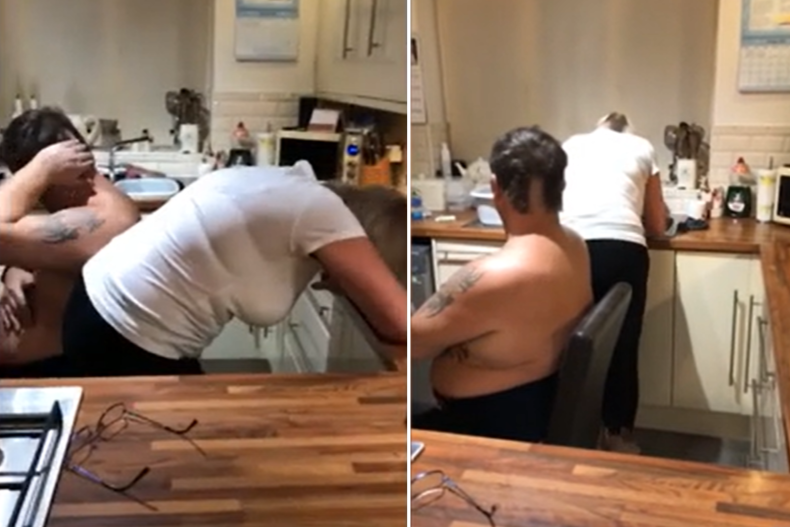 A survey conducted by OnePoll in conjunction with hair treatment company Hairmax asked 2,000 participants how regularly they had bad hair days. The results found that the average person has 96 bad hair days a year, with four in five participants admitting to staying in rather than having to leave their home on a bad hair day.
The poll found that while 38 percent of people skipped a social event because they weren't happy about their hair, 43 percent admitted to bailing on a job interview because of it.
If so many people are terrified of being seen on a bad hair day, it's no surprise that 54 percent of people said they are in a much better mood when they're having a good hair day, coinciding with the 84 percent of people who said their hair is a "crucial component to their confidence."
Tilson, from Rotherham, U.K., explained that the family was due to go out for a meal to celebrate her birthday and her parents had turned the kitchen into a hair salon—just an hour before they were due to leave.
The caption that Tilson posted alongside the video reads: "That time my mum cut my dad's hair and the guard fell off and she didn't realize." Tilson's mom was far from apologetic as she keeled over in hysteric laughter, leaving her husband feeling the back of his head to check the damage.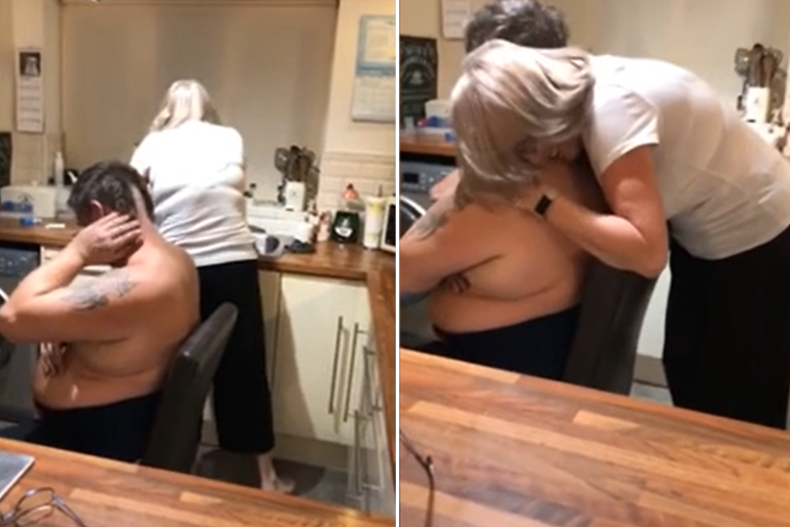 Although Tilson's dad struggled to see the humor in the mistake, all of the other guests at the meal managed to make plenty of jokes about the failed haircut. Tilson explained to Newsweek: "People kept asking what happened to his hair. My brother said he needed two more stripes and he'd have the Adidas logo. We basically just took the mick out of (mocked) him throughout the meal.
"It wasn't until everyone noticed at the dinner table that he realized just how bad it really was and had something to say about it! He now has a hairdresser who he visits regularly. He was the talk of the night, it was just a constant laugh—but at his expense!"
Many TikTok users were quick to comment on the video to show their appreciation for the video, as one user wrote: "I loved when she had to walk off and calm down from laughing! Had me tickled," while another commented: "I love her laugh, that's one of them good belly laughs."
Other people saw the video as an opportunity to bask in the nostalgia of their own unfortunate haircuts, as one person posted: "I did this once to my husband and he was in court the next morning…he didn't speak to me for days. He looked a right mess."
If you have a family dilemma, let us know via life@newsweek.com. We can ask experts for advice, and your story could be featured on Newsweek.