Donald Trump asked whether the tax fraud offenses which Allen Weisselberg, the Trump Organization's longtime chief financial officer, was recently jailed for should even be considered a crime.
In an early morning post on Truth Social on Friday, the former president described Weisselberg as a "casualty of the greatest Witch Hunt of all time," after he pleaded guilty to 15 felonies in August 2022 over his role in Trump's real estate business carrying out a 15-year-long tax fraud scheme.
Earlier in January, Weisselberg was sentenced to five months in jail for helping to provide Trump Organization executives with bonuses and perks that saved the company money. The 75-year-old is serving his sentence at the infamous Rikers Island in New York, and will be eligible for release in around three months.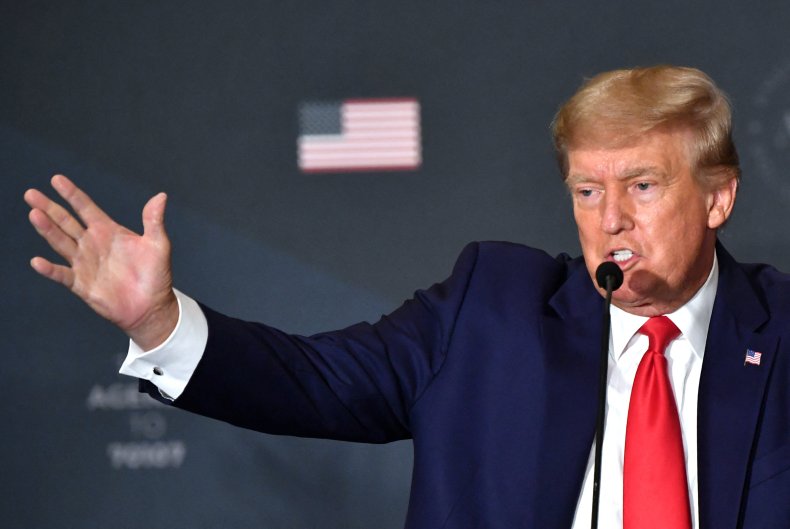 Weisselberg also pleaded guilty to evading taxes on more than $1.7 million of untaxed perks, including school tuition for his grandchildren, leases for a pair of Mercedes-Benz cars, and rent for an apartment in Manhattan.
Weisselberg's sentencing arrived just days before The Trump Organization was handed the maximum fine of $1.6 million after the company was found guilty of 17 counts of tax fraud and other financial crimes following a trial in December 2022.
"I can't get over the fact that a casualty of the greatest Witch Hunt of all time, Allen Weisselberg, my long time employee and chief financial officer, is sitting in a prison cell in Rikers Island for a type of case that has never been brought before in the history of our Country," Trump wrote.
"He didn't pay taxes on the use of a company car—does anyone? The use of a company apartment—does anyone? Or the Education of his grandchildren—Wow! Are these things really criminal, or even a crime?"
Weisselberg faced up to 15 years in jail after pleading guilty to his felony offenses, but struck a deal to testify in the Trump Organization trial. Weisselberg didn't implicate the former president and Trump has denied ever having knowledge of his executives' offending.
Trump's latest Truth Social post is in contrast to a statement he gave after his company was found guilty of the 17 counts which states the case was only about the former CFO "committing tax fraud on his personal tax returns."
In a previous Truth Social post, Trump suggested both he and Weisselberg are a "crime victim" after being targeted by prosecutors for their business dealings.
As well as Manhattan District Attorney Alvin Bragg's investigation which resulted in Weisselberg's conviction, Trump is also facing a probe by New York Attorney General Letitia James over claims he misrepresented the value of his properties and assets to obtain financial benefits and tax cuts.
"He was offered a 'DEAL' if he pled GUILTY TO EVERYTHING—90 days, or Life in Prison. Allen Weisselberg is a CRIME VICTIM, and so am I," Trump said.
The Trump Organization has been contacted for comment.