A woman has intrigued the internet after sharing a behind-the-scenes look at her fascinating job in a crematorium on TikTok.
Latifah Franks is a 31-year-old funeral coordinator and crematory operator and shares snippets of her working day on TikTok under the handle ms.deathpositivitee, where she describes herself as a "last responder."
Her videos include things found in cremated remains and talking about changing the attitude toward death.
One video that caught particular attention featured a box of stored pacemakers that were removed from the deceased before cremation.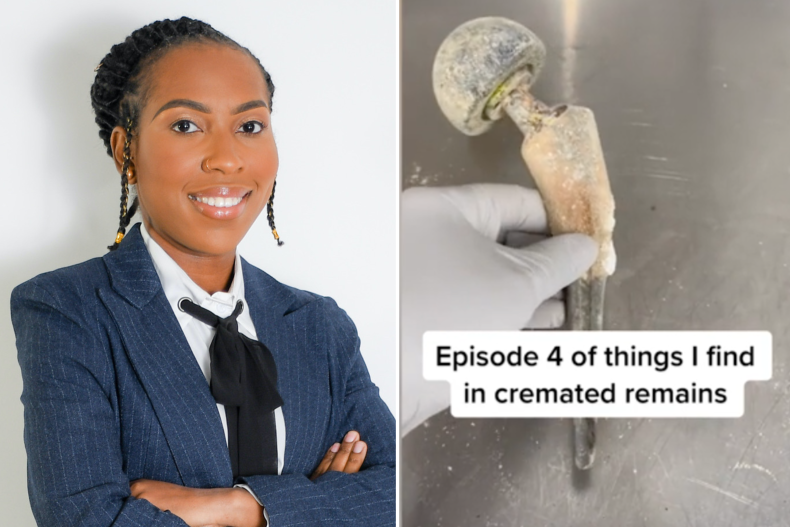 "Imagine hearing this container beeping out of nowhere while you're in the crematory alone," wrote Franks in the video. "It happened to me and creeped me out for a second."
Franks told Newsweek: "The pacemaker box is inside of the crematory. The pacemakers will explode inside of the 'cremation machine' if they aren't removed before the cremation process starts."
She explained that once removed, they are picked up by a medical implant recycling company.
On TikTok, one viewer of the pacemaker video joked: "As someone with a pacemaker this made me laugh as I think of it as one last point of bad behavior."
In other videos, Franks shares the discoveries she makes in cremated remains where other medical implant devices are commonly found.
"Things we usually find are hip replacements, knee replacements and dental implants," Franks explained. "Sometimes I find staples left behind from surgery. I mostly retrieve metal items that didn't burn during the cremation process."
Franks said that sharing her job on TikTok gives people an insight into a rarely talked about career.
"I share a little of my job on TikTok for the people like me who are interested in cremation and the funeral service," she explained.
Currently pursuing a degree in mortuary science, Franks hopes to make the topic of death a more open conversation.
"After losing my mother at 10 years old I became interested in learning more about the end-of-life process," she said. "That led me into doing hospice care for six years."
Now working in the funeral and crematory service, Franks believes that death positivity is an important message for society.
"Death positive is kind of self-explanatory," she said. "It means that I choose to look at death in a positive way. I want people to normalize talking about death. It's a part of life we all have to experience—let's have healthy conversations about our wishes instead of leaving it for our loved ones to figure out."