A gray whale with a large shark bite was found dead on a remote beach in northwest Oregon on Saturday afternoon, marking the fourth whale to wash ashore in the state in recent weeks.
Experts from the Seaside Aquarium determined on Facebook that the whale, which washed up on shore in Cannon Beach, had been dead for "at least a month," if not two.
A necropsy on the whale will be "nearly impossible," due to the remoteness of the location and its state of decomposition, meaning its exact cause of death remains a mystery. The Seaside Aquarium said the shark could have bitten the whale after it died.
Marine mammal strandings are a global phenomenon where marine life—usually cetaceans—wash up on beaches. Most often, the animals are already dead, though strandings while alive can also happen. Reasons for strandings can range from whales being struck by ships, causing injuries that prevent them from swimming properly, or illnesses. Occasionally, large groups of whales wash ashore all at once, a phenomenon known as mass strandings. These remain largely a mystery.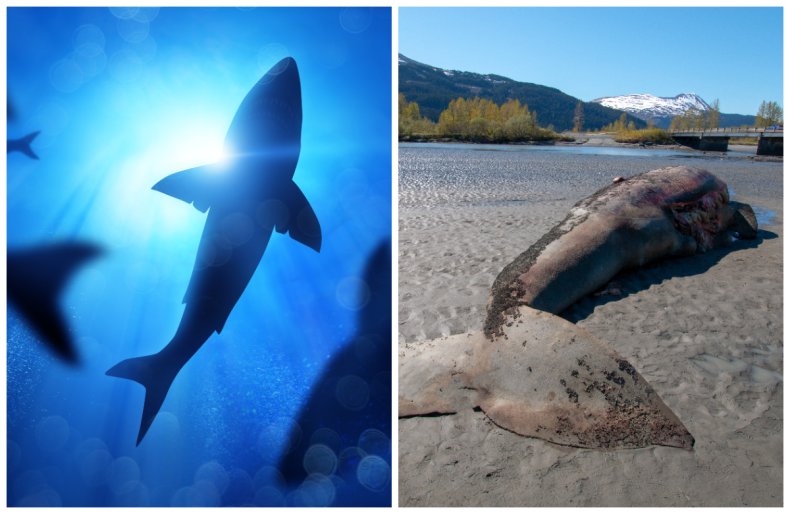 The gray whale is the latest whale to wash up along the Oregon coastline in January.
On January 14, a 40-foot sperm whale washed ashore in Warrenton. Experts from the National Oceanic and Atmospheric Administration (NOAA) determined it had been killed by a ship strike.
Four days later, a gray whale calf washed ashore near the wreck of the Peter Iredale ship in Hammond. The stranding occurred only 100 yards from where the sperm whale was found. In this instance, it does not appear that the calf was hurt before dying.
On January 11, near Reedsport, another gray whale washed up that NOAA scientists determined had been killed by orcas.
The Seaside Aquarium said on Facebook that while this spate of strandings may "seem concerning," there is "no connection between them."
"It is purely a coincidence," the Seaside Aquarium said.
The Oregon coast has been battered with strong westerly winds recently, which could have washed the dead whales to shore, the aquarium said, also noting that this most recent gray whale stranding was not the mother of the gray whale calf as it had likely been dead for far too long.
A spate of strandings has also been occurring along the East Coast of the United States. Since December, there have been nine whale strandings—two sperm whales and seven humpback whales—to occur along the coastline in the North Atlantic.
NOAA Fisheries put this down as part of an "unusual mortality event" that has been occurring off the eastern coastline since 2016. There have been 178 humpback whales involved in this unusual mortality event, 40 percent of which displayed signs of injury from humans, in the form of either a ship strike or fishing line entanglement, NOAA Fisheries said on its website.
What caused the rest to strand, however, remains a mystery.
Do you have an animal or nature story to share with Newsweek? Do you have a question about whale strandings? Let us know via nature@newsweek.com.