Representative Lauren Boebert, a Colorado Republican, recently spoke about her private conversation with fellow Republican Marjorie Taylor Greene and said that the Georgia representative started to be "nasty" about their disagreement over Representative Kevin McCarthy becoming House speaker.
"We're talking in the congressional ladies' bathroom…people are upset about what's going on in the speaker's race. It had been a couple of days, we were not electing Kevin McCarthy," she said during an interview on The Dana Show radio program that was posted on Twitter on Wednesday.
"We hadn't received the concessions that we wanted and my colleague from Georgia, the gentlewoman from Georgia, came up and started being kind of nasty about it, and no one else had been nasty about it. Everyone had been very professional," Boebert added.
McCarthy won the speakership on January 7 after 15 ballots and four-plus days of congressional voting sessions. Some conservative Republicans in the House such as Boebert and Florida Representative Matt Gaetz remained assertive in blocking McCarthy's path to the speakership.
Despite their opposition, McCarthy was able to flip the votes of his critics to finally win the gavel.
Gaetz has repeatedly criticized McCarthy, claiming that the California Republican is not fully aligning with the GOP's values and agenda, while Greene, who was once a critic, turned into a staunch supporter of McCarthy.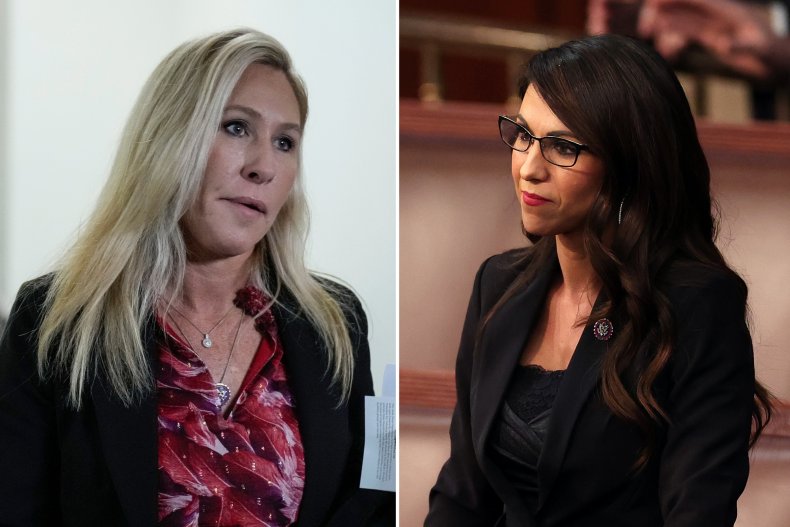 Tensions were rising on January 3, the first day of Congress this year, between Greene and Boebert, The Daily Beast reported, citing sources familiar with the matter.
During their conversation in the ladies' room, Greene reportedly questioned Boebert's loyalty to McCarthy, and moments later, the Colorado representative stormed out. Newsweek was unable to independently verify those conversations between the two congresswomen.
"You were OK taking millions of dollars from McCarthy but you refuse to vote for him for speaker, Lauren?" Greene reportedly said during her conversation with Boebert, according to The Daily Beast.
Meanwhile, Boebert said during The Dana Show on Wednesday that conversations during the speakership race were "organized" and that relationships were being "built and strengthened on both sides of the aisle" in Congress.
"And so when she started going after me, I looked at her and said, 'Don't be ugly,'" Boebert explained, adding that she told the Georgia representative that she didn't "have time for this."
On Wednesday afternoon, Boebert tweeted, "Be kind. Don't be ugly," but this guidance has backfired as social media users accused her of not standing by what she says.
"Can you admit this [is] something that you yourself can work on?" political commentator David Weissman tweeted.
Meanwhile, on a podcast interview last week, Greene said the two lawmakers "haven't really had a conversation" about their disagreement during the speakership vote.
"That's kind of our only difference. But it is something that we need to work out," Greene said. "It's just that she attacked me personally—in a Democrat, leftist political attack, that's what she used against me. I don't appreciate that. So, you know, it is something we need to work out."
Boebert said on The Dana Show on Wednesday that there is nothing against Greene given that they share the same circles of Republican colleagues.
"There was nothing against her. We travel in the same circles [and] have the same policy views on a lot of things, not everything, but on many things," she said.
Newsweek reached out to media representatives for Boebert and Greene for comment.