An Australian teacher is alleged to have been poisoned and tossed into a crocodile-infested river in the Republic of the Congo.
Mark Ciavarella, 57, had been working as an English and music teacher in the Congo for six years. He was reported missing on October 26 last year.
A video posted to Facebook by local media outlet BrazzaNews in November shows Ciavarella's alleged murderer—his lover Clement Bebeka—and another man. In the video, Bebeka describes to Congolese journalists and authorities how Ciavarella was poisoned, the 35 minutes it took him to die, and how his body was wrapped and dumped in the Congo river.
Newsweek has not been able to independently verify the video and no comment on the case was immediately available from Congolese authorities. Newsweek has asked the Republic of the Congo Embassy in the U.S. for comment.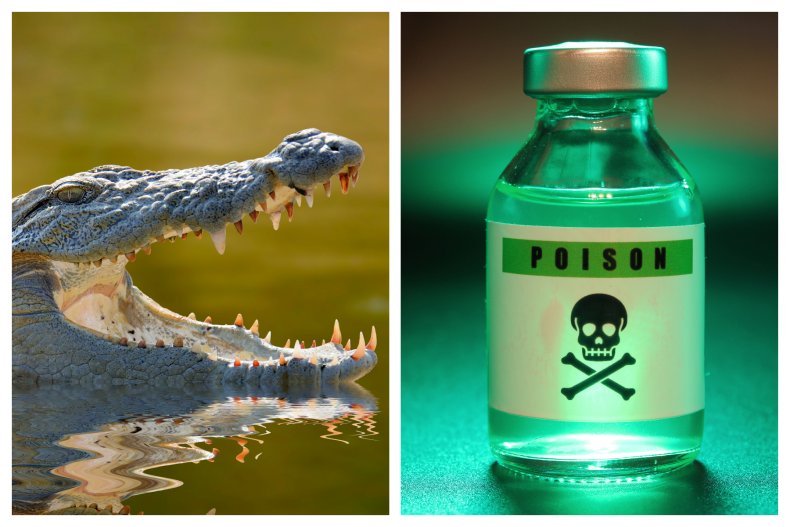 "If it was a crash or illness, it would be easier to come to terms with, but the fact they [allegedly] killed him and fed him to crocodiles in the sea is killing us," Mark's brother Darren Ciavarella told News Corp.
"It's too painful to imagine his last moments. We are absolutely devastated."
Bebeka and Ciavarella had lived together in Pointe Noire, about 310 miles from the country's capital Brazzaville.
In the video, Bebeka alleges that a friend poured poison into Ciavarella's drink, while he stood by, after they learned he may be returning to Australia.
"I've lived with Mark since 2016. He was a teacher here for some time. He called me to say he was going back to Australia because his American contract with the school had ended, and he was going to teach at the French Institute," Bebeka said in the video interview, as reported by The New Zealand Herald.
"I came to Brazzaville to the apartment … and [saw him] with a friend. I didn't know if they were together, but he said Mark was going to leave the country and leave us with nothing and said we needed something to benefit. He said he had a solution."
Bebeka went on to describe how he watched Ciavarella die from poisoning, administered by the friend.
"After he drank the poison, he fell asleep, and after 35 minutes or so he was dead."
"It happened in front of me," Bebeka said. "No, I didn't intervene … [the friend] told me we needed to get his money and his bank cards."
"He didn't have money on him, but he did have it on his bank card."
After Ciavarella died, Bebeka said that he and the friend, as well as a third man, wrapped the body in a bed sheet and threw it into the Congo River.
"We put the body in the car and threw it into the water," he said in the alleged video confession.
"The body was folded in a bed sheet … I then went to the police station to tell them Mark had disappeared."
Ciavarella's family, from Leeton in Australia's New South Wales, are heartbroken at the news.
"He knew it was a dangerous spot, but he was very passionate about teaching the kids over there and helping out. He had the biggest heart," Ciavarella's brother Darren said.
Ciavarella's body has not been found. The Congo River is swarming with crocodiles, so the chances of his body being recovered so many months later are slim.
"The fact they haven't found the body and probably never will makes it harder for us in so many ways, to come to terms with his death, to get a death certificate so we can tie up his affairs, we'll never be able to bring him home," Darren Ciavarella said.
"It's gut-wrenching what's happened to Mark. I spoke to him the day before he disappeared. He was in a good space and excited about coming back to his life in Australia."
Bebeka has been charged with murder, and will face trial in Brazzaville in March 2023, according to The New Zealand Herald.
Do you have a tip on a science story that Newsweek should be covering? Do you have a question about crocodile-infested rivers? Let us know via science@newsweek.com.