Meghan McCain said she's had a "jarring" experience in coping with the loss of her father, John McCain.
TV personality Meghan McCain is the daughter of war hero and former presidential nominee John McCain, who died at the age of 81 in August 2018. He died after being diagnosed with cancer, surrounded by his family at his home in Cornville, Arizona.
It's been more than four years since John McCain died, but despite the time, Meghan McCain shared how she's still affected by the loss.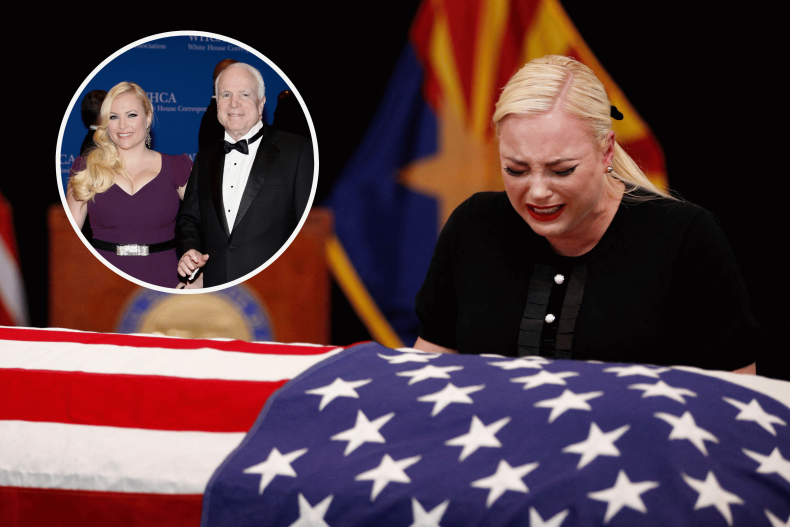 Despite her affiliation with her father, Meghan McCain is perhaps best known for her appearances on TV. She has been an analyst and a contributor on MSNBC, Fox News, and most notably, was a permanent co-host of The View from 2017 to 2021.
Meghan McCain opened up about how she's coping with the loss of her father, after Rich Eisen, sports broadcaster and host of The Rich Eisen Show, tweeted a question to his followers.
"Literally just thought of calling my dad. He's been gone a little over 3 years now. This happen to anyone else?" he asked openly. Meghan McCain was one of thousands to reply.
"Yes, happened to me last summer. It's jarring but also weirdly reassuring," Meghan McCain wrote.
Through sharing their own experiences with grief, Meghan McCain and Eisen's accounts prompted more Twitter users to speak out too. Both celebrities' comments section were filled with people talking about how they still go to call their mothers and fathers even though they may have died decades prior.
After hearing the dozens of comments and messages of support, Eisen shared his appreciation. "The responses have been beautiful. Thank you," the broadcaster wrote.
Meghan McCain documented her father's run for president in the 2008 presidential election. It prompted her to publish the illustrated children's book My Dad, John McCain.
Since her father's death in 2018, Meghan McCain has publicly discussed her struggles in coping with his death. In December 2019, during a public forum at the End Well Symposium, she discussed destigmatizing conversations about grief and death with Dr. Lucy Kalanithi.
Meghan McCain was also a regular on The View at the time of John McCain's death and has spoken out on why she felt it was important to share her grief on-air. She made a tearful return to The View five weeks after John died.
"From the second that my father passed, there were people in the country, all races, all ages, all creeds, out here with American flags waving, saluting, praying, everyone. He would have loved it," she said on the show in response to the public reaction to her dad's death.