A segment that recently aired on Russian state TV showed Kremlin propagandist Vladimir Solovyov giving a pep talk to troops, saying that Russia is fighting a "holy war" against "Satanism."
Rossiya-1 host Solovyov, an ally of Russian President Vladimir Putin, replayed his visit to Russian troops, showing both him and a commander named Magomed Khitanaev speaking to a group of men fighting in Ukraine
The first to speak in the clip, which was posted to Twitter by Daily Beast columnist and Russian Media Monitor creator Julia Davis, was Khitanaev, who gave a lengthy speech in which he made multiple homophobic attacks.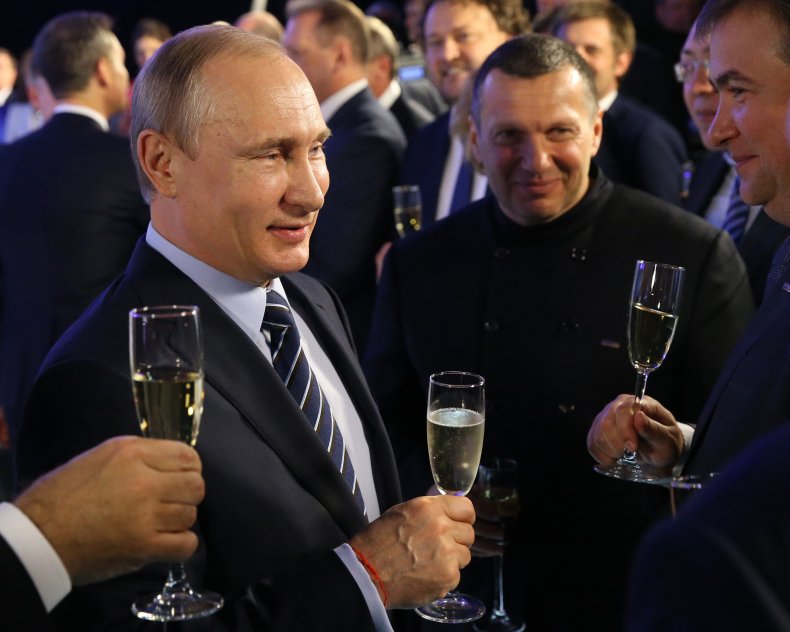 "We're on the side of God! We are defending divine laws. We are defending our faith. We're asking: Oh Ukrainians, why did you permit gay parades in Kyiv, Kharkiv and Odesa?" Khitanaev said.
"Why did you permit it? Why didn't you come out against them, against your government that was overtaken by fascists? Without shame before God, people, they are openly, manifestly spreading their filth."
The commander went on to say that Pope Francis "officially legalized same-sex marriage" and "sex change."
In October 2020, Pope Francis became the first pontiff to endorse same-sex civil unions, but he has not steered from Catholic teaching that maintains that homosexual acts are "intrinsically disordered." He has also said that he opposes "gender theory."
"What is this? The Roman Pope officially opened the temple of Satan," Khitanaev told the Russian soldiers. "That's why they are on the side of Satan. And we are on the side of God."
He added: "We are defending divine laws. Our spirit can't be broken. Right now, we're waging the holy jihad, the holy war."
Solovyov chimed in, saying "we continue on through our children."
"What kind of children do they have if men sleep with men?" he asked the Russian troops.
The Kremlin propagandist said 50 countries are against Russia, and that they're united by "Satanism."
"No matter what they say, no matter how they try to find beautiful words, this candy has a rotten filling. The destiny of this country depends on you. If we don't win, not Russia but the whole world will disappear. Who needs the world if there is not Russia in it?" he concluded.
Solovyov finished his broadcast on state TV by saying: "We are fighting against Satanists. This is a holy war and we have to win."
It's not the first time Solovyov has called the ongoing conflict in Ukraine a "holy war."
In December, he declared Russia was in a "holy war" against Ukraine and the West as he criticized U.S. President Joe Biden and other world leaders. The West would be "reduced to ashes" in a nuclear war should the country find itself losing the conflict in Ukraine, he said at the time.
"We live in latter days. What's happening in Ukraine won't stay in Ukraine. A holy war is underway. We're fighting for the right of mankind to live in its original state, as designed by the Creator," Solovyov said. "Those fools who are trying to fight they aren't fighting against us—they're at war with God. In case of their victory, their end is certain.
Do you have a tip on a world news story that Newsweek should be covering? Do you have a question about the Russia-Ukraine war? Let us know via worldnews@newsweek.com.