Family dynamics often change as children grow older, and even more so when money and inheritances are involved. All this may have played a role in the tale of a man who has been dragged on the internet for refusing to drive his disabled wife to their son's wedding because he wasn't invited.
In a post shared on Reddit on Sunday, under the username u/Mryrc56, he explained that he has always had a troubled relationship with his son, but recently they have gone no contact, after the son decided to sell the house he inherited from his grandmother, from his mother's side of the family, which his father was against selling.
Broken relationships among families are not uncommon. According to The Economist, as of 2021, 27 percent of Americans were estranged from at least one close member of the family.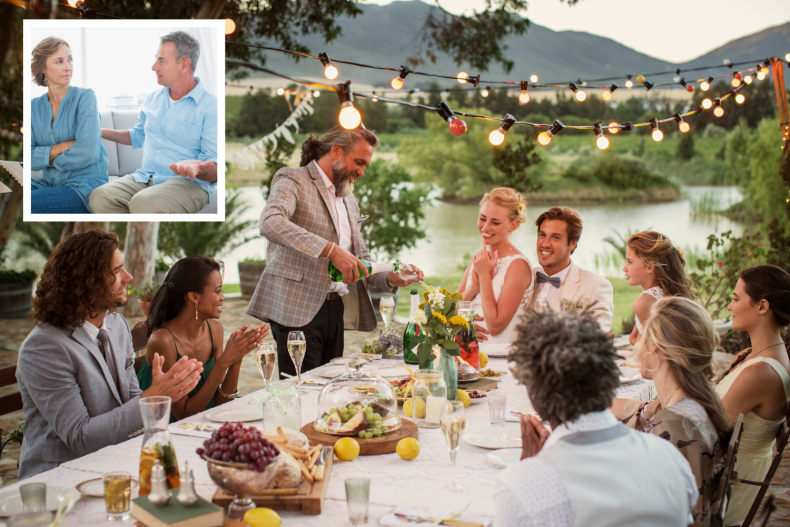 According to the post, the son sent his mom an invitation to the wedding but didn't include the father.
On the day of the wedding, that was held a three-hour drive away from their home, the father refused to drive his wife, who is disabled and can't drive, and after arguing about it, she ended up asking her brother-in-law to take her instead.
Karri Francisco, director of family programming at APN, told Newsweek that the couple should have talked it out before the wedding day.
"It was unreasonable to have the expectation without a conversation with her husband. Conflict generally occurs when each person views the dilemma from their own perspective without including alternate perspectives that may be true and valid of one another. In this instance, the husband and wife chose not to communicate with each other, resulting in a misunderstanding that likely hurt them both," she said.
According to Francisco, when the invitation arrived, the couple could have had an open conversation taking the feelings of one another into account.
She added: "The husband likely feels some sense of loss and hurt not to be included in his son's wedding with the estrangement. The wife could have been feeling conflicted in prioritizing her needs, her son's, and her husband's.
"Both the husband and wife hoped to avoid an argument by not addressing it, and this never has the outcome one wishes as all it does is contain the conflict until it explodes. In the future, the couple can address conflict when they are both regulated and listen to each other's perspectives to find a solution that each is comfortable with."
The post, originally shared on the r/AmItheA****** subreddit where users discuss their actions with strangers, has gone viral, receiving over 7,200 upvotes and 2,700 comments so far.
One user, CrystalQueen3000, commented: "[You're The A******]. She's right, you were punishing her because of your son's decision. If she hadn't been able to find an alternative ride then she would've been trapped at home and unable to go. You would've forced her to miss something really important because your feelings are hurt and your ego is bruised. Forget the drama with your son, this puts you in the bad husband category."
Although No-Acanthaceae-1209 said: "She is essentially asking him to drive Six hours and then Stay hours Alone watching from the outside his son getting married in a ceremony that he was not invited. He can (and appears to be) an [A******]. It does not make asking something like that OK. Especially, given that there were other people that could simply drive her to the wedding (like the brother)."
And bmyst70 added: "[Not The A******]. Your son is being completely unreasonable if he expects you to drive six hours (three each way) for an event you're specifically not invited to, just to drop your wife off and pick her up. The big [A******] here is your son, for putting you in this position.
Newsweek reached out to u/Mryrc56 for comment. We could not verify the details of the case.
If you have a similar family dilemma, let us know via life@newsweek.com. We can ask experts for advice, and your story could be featured on Newsweek.