Former President Donald Trump urged Republicans on Friday to protect funding for Social Security and Medicare and consider cutting federal funding for other programs.
His remarks came at a time when House Speaker Kevin McCarthy has reportedly discussed bipartisan ideas with Democrats that are related to raising the country's debt limit.
"Under no circumstance should Republicans vote to cut a single penny from Medicare or Social Security to help pay for Joe Biden's reckless spending spree, which is more reckless than anybody's ever done or had in the history of our country," Trump said in a video posted to Truth Social.
He continued: "Cut the hundreds of billions of taxpayer dollars going to corrupt foreign countries, cut the mass releases of illegal aliens that are depleting our social safety net and destroying our country, cut the left-wing gender programs from our military, cut the billions being spent on climate extremism, cut waste, fraud and abuse."
"But do not cut the benefits our seniors worked for and paid for their entire lives. Save Social Security, don't destroy it. The Democrats are looking to destroy Social Security. We're not going to let them do it," Trump added.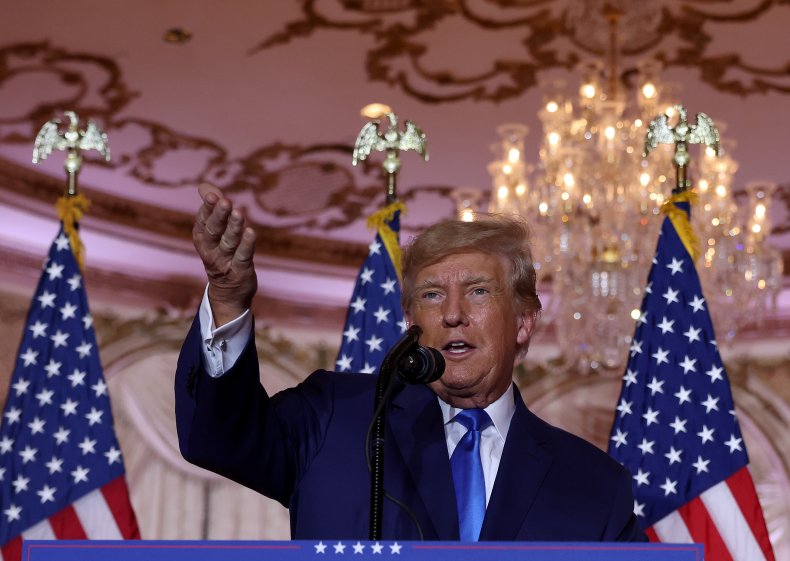 However, Democratic Senator Joe Manchin of West Virginia said on Wednesday that his party doesn't plan to undermine social safety programs, such as Social Security and Medicare, but instead will push Congress to consider ways to stabilize them and look into whether or not there is waste or fraud in both programs, according to Politico.
Manchin also said that he spoke with McCarthy about finding ways to shore up those social safety programs in an effort to raise the debt ceiling.
"We have to work together. It's bipartisan, it's always been bipartisan as far as the debt ceiling," Manchin said on Fox Business on the sidelines of the World Economic Forum in Davos, Switzerland, on Wednesday. "I think what we have to do is realize that we have a problem. We have a debt problem. We have $31.4 trillion of public debt right now."
Manchin spoke about his ideas on how to approach spending on social safety-net programs to lift the nation's debt problem and confirmed that Social Security will remain protected.
"We would put different committees—bipartisan, bicameral committees—together to look at each one of the trusts and come up with solutions of how you fix it. We're not getting rid of anything, and you can't scare the bejesus out of people saying we're gonna get rid of Social Security [or] we're going to privatize, that's not going to happen. But we should be able to solidify [them] so the people [who] have worked and earned it know they're gonna get it," he said, according to Politico.
Last week, McCarthy vowed to protect Social Security and Medicare and promised that the GOP would look at "every single dollar spent" on federal programs.
"As Republicans, we will always protect Medicare and Social Security. We will protect that for the next generation going forward. But we are going to scrutinize every single dollar spent. It's the hardworking taxpayer that actually pays it and we want to make sure it's spent wisely and not the way the Democrats expect," he said, according to Politico.
Newsweek reached out to Matt Sparks, the deputy chief of staff for communications for Speaker McCarthy.