The Ukrainian military says that it destroyed three Russian helicopters within 30 minutes on the 11-month anniversary of the Russia-Ukraine war.
The General Staff of the Armed Forces of Ukraine said in a Facebook post on Tuesday that three Ka-52 helicopters, called Russia's "most advanced attack helicopter" in a 2020 Forbes article, had been obliterated in the Donetsk region in under 30 minutes.
Ukrainian forces also destroyed one Russian Su-25 fighter jet near the embattled city of Bahkmut, according to the post.
"During the day of January 24, Ukrainian Air Defense Forces shot down 3x Russian Ka-52 attack helicopters over a 30-minute span," the post said. "The aircraft were performing missions in the vicinity of Yevhenivka (Volnovakha district, Donetsk oblast). Ukrainian defenders also shot down 1x Russian Su-25 in the vicinity of Bakhmut."
The helicopters were all destroyed by anti-aircraft missiles during the first half-hour of January 24, the 11-month anniversary of the war, according to a tweet from the Ukrainian Air Force.
The Ka-52 helicopter, also known as the "Alligator," is an all-weather attack helicopter designed to destroy armored and unarmored targets, including low-speed aerial targets and military personnel. It is also deployed as a surveillance platform and aerial command post for a group of attack helicopters.
Ukraine claims to have shot down at least 281 Russian helicopters since the war began. Many of the downed helicopters have been Ka-52s.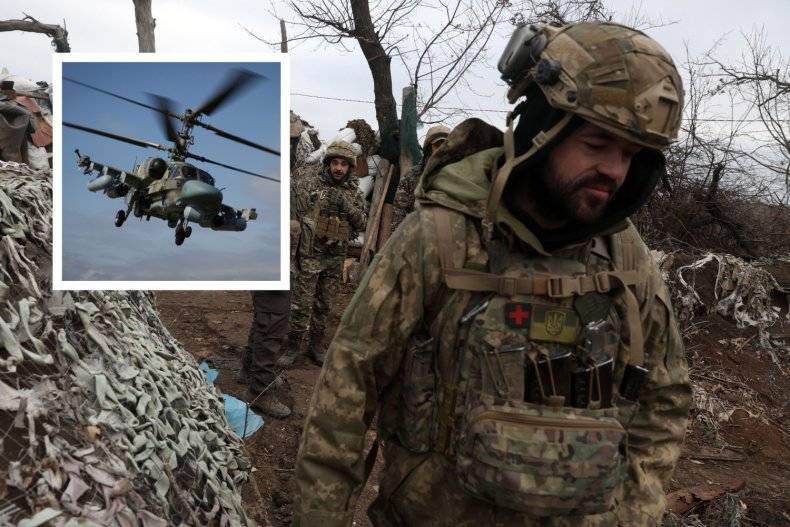 Karolina Hird, a Russia analyst with the Institute for the Study of War (ISW), told Newsweek last October that Russia pursuing "high-risk" missions and providing poor standards for aircraft maintenance could be contributing to the losses.
"Russian forces are likely carrying out higher-risk air operations with less suppression of Ukrainian air defenses than would be preferable," said Hird. "We cannot confirm the maintenance levels of Russian helicopters, though Russian maintenance has been generally poor throughout the war."
An ISW report on Monday suggested that Russia could be preparing to trade some of its attack helicopters, including the Ka-52 and the Mi-28, to Iran.
An alliance between the two countries, both of which are under heavy U.S. sanctions, has already resulted in Russia receiving a substantial number of Iranian drones, many of which have since been destroyed by Ukrainian forces.
The Donetsk region has been a focal point of the war in Ukraine for several months. Intense fighting for control of Bakhmut has extended to an air battle as Ukrainian forces on the ground hold steady despite a relentless onslaught of Russian attacks.
Ukraine said that over 20 settlements near Bahkmut had been shelled by Russian tanks and artillery on Tuesday alone. The ground assault has resulted in heavy casualties for Russian troops and aligned mercenaries working for the Wagner Group in recent months.
A senior U.S. defense official said on Monday that Russian attempts to bolster the battle on the ground had been largely ineffective despite Moscow sending "tens of thousands" of reinforcements.
"A key aspect is, despite these increased numbers in terms of replacements, reinforcements, there is not a significant enhancement in terms of the training of those forces," said the official. "So again, ill-equipped, ill-trained, rushed to the battlefield."
Newsweek has reached out to the Russian Ministry of Defense for comment.