Germany has agreed to send Leopard 2 tanks to Ukraine, German Chancellor Olaf Scholz announced Wednesday.
The German government will provide 14 Leopard 2 A6 tanks from its Bundeswehr stocks and continue to act in close coordination with its allies.
Ukrainian President Volodymyr Zelensky thanked Scholz, saying these tanks will broaden Ukraine's defense and training missions. Poland also welcomed the decision, as it now opens the door for German allies to send tanks to Ukraine as well.
Russia called this decision "extremely dangerous," as Moscow's ambassador to the U.S. said the tanks would be destroyed along with other Western military aid.
The transfer of German tanks puts more pressure on the U.S. to send Abrams tanks to Ukraine. U.S. President Joe Biden is expected to speak Wednesday afternoon on plans for continued support to Ukraine's defense.
This decision comes as Russian plans a renewed offensive in the east. Ukrainian forces have retreated from the Russian onslaught in the Donbas town of Soledar.
Follow Newsweek's live blog for the latest updates.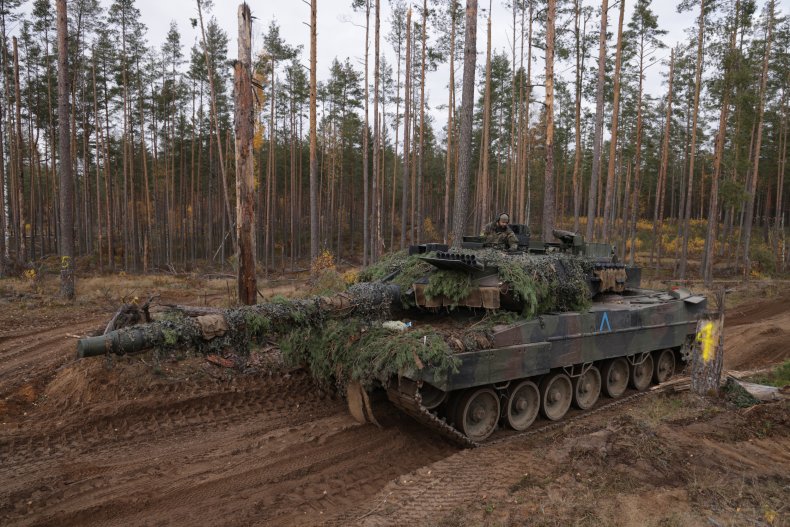 Germany will send its Leopard 2 main battle tanks to Ukraine, Chancellor Olaf Scholz announced Wednesday, following "intensive consultations" with allies.
"This decision follows our well-known line of supporting Ukraine to the best of our ability," Scholz said in Berlin. "We are acting in a closely coordinated manner internationally."
"The goal" is to quickly assemble two tank battalions with Leopard 2 tanks for Ukraine, the German government said.
Germany will initially provide 14 Leopard 2 A6 tanks from Bundeswehr stocks. This will accompany additional tanks provided by other European partners, the government said. Ukrainian crews will then be trained on the tanks in Germany "quickly." The aid will also include logistics, ammunition and system maintenance.
"Germany will issue the appropriate transfer permits to partner countries that want to quickly deliver Leopard 2 tanks from their stocks to Ukraine," the government's statement concludes.