The shooting in San Mateo County, California, on Monday took place at the Mountain Mushroom Farm, 12761 San Mateo Road, Half Moon Bay, which grows normal edible mushrooms and not the "magic" hallucinogenic fungi suggested in some reports and referred to in social media posts about the incident.
Seven people were killed in two related shootings that police believe were carried out by one gunman, 67-year-old Chunli Zhao. Four people were found dead and a fifth injured with a life-threatening gunshot wound at the farm, and another three were killed at a separate mushroom farm a six-minute drive down the road. It was California's third mass killing in eight days.
Officers arrested the suspect after finding him in his car in the parking lot of a sheriff's substation in Half Moon Bay. A weapon was located in his vehicle.
Investigators believe Zhao was a worker at one of the farms, and the victims were workers as well, San Mateo County Sheriff Christina Corpus told the Associated Press. They have yet to determine a motive and Zhao is believed to have acted alone.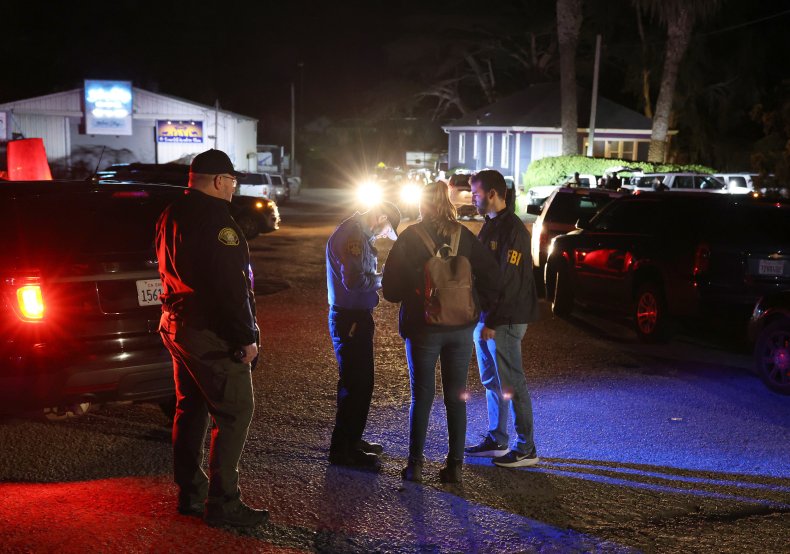 The killings occurred on the outskirts of Half Moon Bay, a small city on the coast about 30 miles south of San Francisco. "This is a devasting tragedy for this community and the many families touched by this unspeakable act of violence," Corpus said in a statement.
Joaquin Jimenez, Half Moon Bay's vice mayor, said the victims included Chinese and Latino farmworkers, and that some workers at one of the farms lived on-site and children may have witnessed the shooting.
Some people on social media then questioned why children would be present on a magic mushroom farm. That stoked speculation that a possible motive could be drug-related.
After the attack was first reported, users commenting on a thread in a subreddit for the Half Moon Bay area were quick to jump on the notion that the farm grew magic mushrooms—which are used recreationally. Possession has been decriminalized in several Californian cities, but owning the spores to make them is illegal across the state.
"It was at a farm that apparently grows weed and/or mushrooms?" the original poster speculated. "I'm not sure on the details there but if that's true it may be more drug related than anything else."
In response to California Governor Gavin Newsom's statement on Twitter that the latest mass shooting—so soon after the incident in Monterey Park—was a "tragedy upon tragedy," one person asked: "Wasn't magic mushroom farm in that reporting as well?"
As of 3.23 a.m. ET on January 24, CBS Sacramento and CBS Bay Area was still saying officers were called to Magic Mushroom Farm. But the farm is not called Magic Mushroom Farm, as many other outlets identified, and according to international shipping documents provided by S&P Global, the company grows normal mushrooms.
In fact, it is one of two sites held by the Mountain Mushroom Farm Inc; the other is in New Jersey, business records show.