There has been an "unusual" spike in stranded and dead whales washing ashore in recent weeks.
Whale strandings occur all over the world, all throughout the year. But recently, there has been an increased number of strandings, particularly on the eastern coast of the U.S.
Kate Wilson, a spokesperson for the International Whaling Commission told Newsweek: "Strandings occur for either natural reasons like age or disease or human-related factors such as vessel collisions or ocean noise. Animals may strand alive on the beach or die at sea before being carried onto land by ocean currents. Some strandings occur due to a combination of factors and it's often very difficult to identify the cause of a stranding."
Since December 1, 2022, there have been nine whale strandings—two sperm whales and seven humpback whales—to occur along the coastline in the North Atlantic, the National Oceanic and Atmospheric Administration (NOAA) has announced.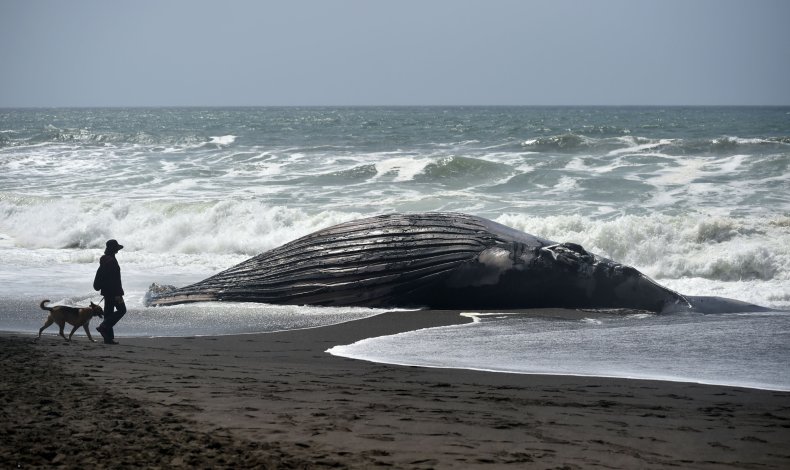 "There's concern recently about this increased number and all of these happening in a relatively tight geographic area and time," Sarah Wilkin, coordinator of the Marine Mammal Health and Stranding Response Program of the NOAA Fisheries Office of Protected Resources, said at a press conference on January 18.
Since 2016, NOAA Fisheries have reported an "unusual mortality event" along the eastern coastline, as more large whales—in particular humpbacks—have washed ashore over these years. There have been 178 humpback whales involved in this unusual mortality event, 40 percent of which displayed signs of injury from humans, in the form of either a ship strike or fishing line entanglement, NOAA Fisheries said on its website. For the rest, scientists still are not sure and more research is needed.
Climate groups such as Clean Ocean Action have been calling on the U.S. government to stop the development of offshore wind turbines as they argued this was causing the strandings. In a press release dated January 9, Clean Ocean Action expressed concern that the noise emitted during survey work had harmed the whales.
But NOAA said at a press conference that it did not have evidence to support a link between survey work and stranding events. And autopsies can be difficult to perform on the animals, depending on where they wash up.
"We are in the middle of an ongoing unusual mortality event that has been ongoing since 2016. And that is specifically for the humpback whales. So while elevated [right now], we also have had a period of elevated humpback whale mortalities for several years to date," Wilkin said. "There are also ongoing unusual mortality events for minke whales in the North Atlantic and North Atlantic right whales along the Atlantic coast. So unfortunately, it's been a period of several years, where we have had elevated strandings of large whales. But we are still concerned about this pulse over the past six weeks or so."
NOAA experts wonder if, as humpback whale populations increase, it is inevitable that more may be seen washing up on the coastline. The whales may be following prey that scientists suggest may have moved closer to the shore in recent years. This could be put down to climate change. As ecosystems adapt to the changing temperatures, some marine populations move to different areas where conditions are better.
Still, more research is needed to determine just what is causing these increased deaths. These East Coast strandings have not been the only ones to occur in the world recently.
Two fin whales have also washed up in different corners of the globe—one in the Mississippi Gulf Coast and one in Cornwall, England. It is unlikely, though, that strandings happening in different geographical areas are connected.
On January 7, one fin whale washed ashore in Pass Christian, Mississippi.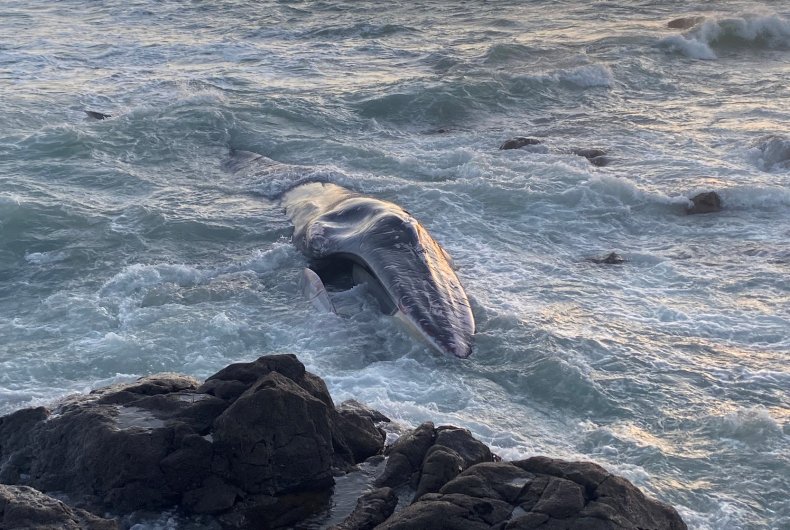 A necropsy performed by the Institute for Marine Mammal Studies found that the animal had a parasite in its heart and kidneys. This means it had been sick and died before washing ashore shortly afterwards.
Then, on January 12, another fin whale washed ashore in Cornwall, on England's south coast.
Fin whales can be found worldwide, but they are an endangered species and incredibly rare to see, making these two recent strandings a coincidence. There are thought to be 100,000 fin whales left in the world.
Marine experts from British Divers Marine Life Rescue (BDMLR) and Cornwall Wildlife Trust wanted to perform a necropsy on the animal, but it washed away before they could do so. The experts suspected it had been in poor nutritional condition when it washed ashore.
Dan Jarvis, director at British Divers Marine Life Rescue, told Newsweek: "It would be very unlikely for the two incidents to be connected to one another over such a huge geographic distance. Typically an incident involving multiple animals would occur over a much smaller area. Without a post mortem examination available for our whale as it washed back out to sea overnight we also can't say for sure why the animal stranded and died, though we did observe it was in poor nutritional condition that would be an indicator of underlying health issues over a prolonged period of time. This may be due to injury or illness of which there could be a number of causes."
Three sperm whales have also recently washed ashore in Oregon, within days of each other.
With one of these strandings, experts with the NOAA Fisheries' West Coast Marine Mammal Stranding Network were able to identify the cause of death. They found signs of internal bleeding which they said was is evidence of it being struck by a ship.
Do you have an animal or nature story to share with Newsweek? Do you have a question about whale strandings? Let us know via nature@newsweek.com.